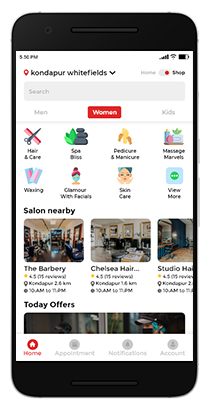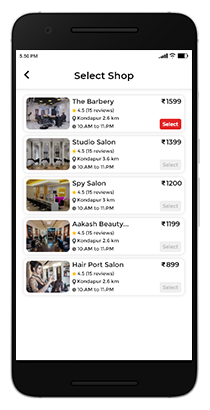 ABOUT US
From the user point. It makes the job easier for the partner salon, which automatically generates e-bill to the user with all the details of discount applied, amount saved and applicable taxes.
Salon free marketing

The BookUrSalon App helps the partner salon to utilise its capacity with selective, specific and relevant marketing ads on the user app. This marketing campaign helps the partner to communicate with the user about the packages, offers and coupons and create interest in the user.
The partner has the choice of using the well-designed templates provided by the BookUrSalon app.
The App enables the Partner Salon to expose its services, offers, packages and coupons to a wide range of user network absolutely free of cost.

Salon, Spa, Pedicure, manicure Ratings & reviews
Assess your Salon through genuine Ratings and Reviews given by your customers and analyse Ur salons strengths and weakness for better performance and more acceptance from the customers point.

Partner support & Training
BookUrSalon provides well designed training support to the Partner for optimal usage of the App and its features. Personalised setup easy to use clubbed with support on a Phone call, WhatsApp chat & email

Reports & Dash Boards – MIS
BookUrSalon Partner App provides a detail report on Ur Services and Stylists. It provides as per Ur requirements a daily, weekly or monthly data of the services, traffic of customers, revenue generated from each particular service you provide, Ur Stylist performance, availability and attendance, making it easy for the Partner Salon to analyse and manage the salon to generate more revenue.
What our customers say Google Play Store Apple APP Store All Social Media Platforms