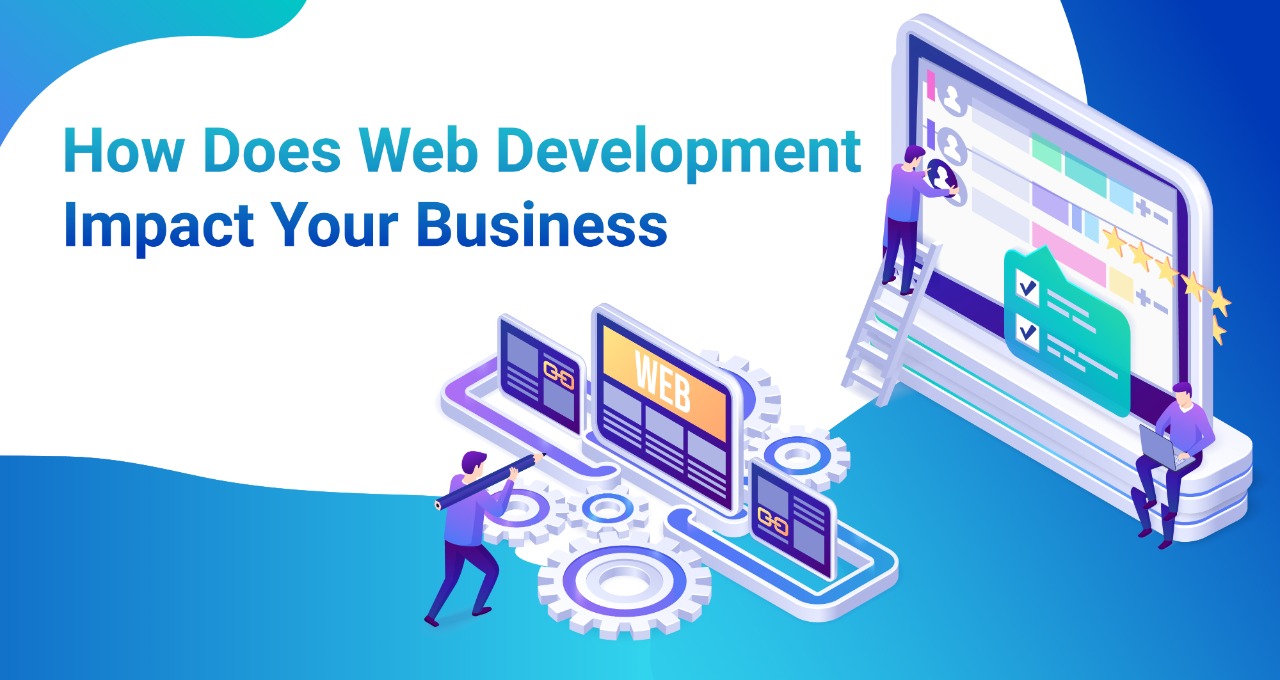 Did you know that 81% of shoppers conduct online research before buying? According to Google, 61% of users are not likely to return to a site if they had trouble accessing it, and 40% visit a competitor's site instead. These recent statistics highlight the significant impact that Web Development has on business growth. 
The way people access the website, interact, shop, and make payments has changed dramatically in recent years with the advancement of technology. As a result, businesses of all sizes that waited for their peers to take the first step have had to create an online presence to survive in the competition. The world is chasing convenience and innovation. Hence, whether you serve locally or to a global audience, it's just important to present online during the days when everything can be accessed with a single button click. If your product can't be found in a click or two, you've lost your most potential customers.
If you're still wondering if it is really important to have a website, then here are a few benefits that convince you to have one.
Benefits of Having a Website for Your Business
Having a website keeps you available for your customers anytime and anywhere (even outside of business hours). 24/7 availability means more business.
A website provides an easy and quick way of communication between sellers and customers. You can show your products or explain your services in a clear and engaging way to your customers.
Today, brand reputation plays a vital role. Having a website helps you create brand credibility. You can publish your physical address, email address, and phone number to show you exist in real life; and this is highly important in modern times.
Expanding your business becomes much easier when you have a website. Business expansion is one of the major advantages of having a website. You can break geographical barriers and take your business to a global audience easily.
You can attract a huge number of customers to your website and grow your business. You can leverage Google Ads, social media advertising and take your business to a wider audience.
A website lets you sell products and services directly to your consumers. You can cut operating costs such as rent, staff wages, and utilities. When you eliminate these large costs, you save a lot of money for growing your business.
It's easy to provide customer service when you have a website application. You can simply integrate a chatbot or publish FAQs to provide instant service and save time. You can also show off your positive customers' feedback on your website to convert the visitors into customers.
Okay, now you know the benefits of having a website for your business. Now, let's see how web development impacts your business.
Impact of Web Development on your Business
1. Control Over Brand: Builds Credibility
Your website does more than what you think. It is the face of your business just like your physical store.
Your voice needs to be heard, the brand needs to be seen in today's highly crowded market to gain customer's trust. Moreover, having control over your brand is a must to avoid the interference of third parties and damage to your brand reputation. Having a domain name, a website, and maintaining ownership over them will make you stand as a credible brand in the market. If you find doing all this on your own hectic, you can hire a web development company and make them do it for you.
2. Improved Search Traffic: Generates Leads & Sales
A good and fully optimized website attracts potential search traffic. Internet users search for information on search engines like Google, Bing, yahoo, using keywords. When your website has the right and related keywords, that huge traffic is all yours. If your website has all the information that your visitors want, turning those leads into sales is pretty easy.
Not just that, whether your business is long established or a new startup, what your customers look for is your website. If you fail to show up on their search results, you will simply lose them to your competitors. These days, not having your business online means your business exists only partially.
3. Control Over Content: Markets your Business Online
Today, businesses are thriving using digital marketing strategies. By having a website for your business, you will have control over all the content of your business. Right from what your customers are saying about you to what you want your customers to know about you, everything is in your control.
You can create content on your website, start a blog, build links, run ads, publish customer feedback, do social media marketing and drive customers to your site and do much more. Modern businesses very well know that "content is king". Creating useful and engaging content related to your business will help you reach your business goals faster.
4. Ability to Analyze & Improve: Boosts Business Growth
When you have a website, you will also have the ability to measure and analyze its performance. You can monitor conversion rates, engagement, and other metrics and find ways to improve your performance. Ultimately, by properly analyzing and improving your online strategies, you will attain higher revenues and ROI. A website is a valuable asset to a modern business, make sure you use it well to boost your business growth.
How to Build a Website for your Business?
It's no longer a question to ask whether or not website development is important for a business. The question is how to develop a website for your business- whether you want to hire developers (which is expensive) or take the help of a web development company (which is affordable). Whatever way you choose, if you're building a website, ensure it is engaging and user-friendly. Because it just takes 50 milliseconds for users to judge your website and decide whether or not to stay on it. Don't drive your customers to your competitor's site after investing a lot of money on your site. Take our help!
Feel free to get in touch with us:
Email: [email protected]
Visit our website: https://www.versatilemobitech.com/
Like us on Facebook: https://www.facebook.com/versatilemobitech
Subscribe
Subscribe to our blog and never miss our latest updates