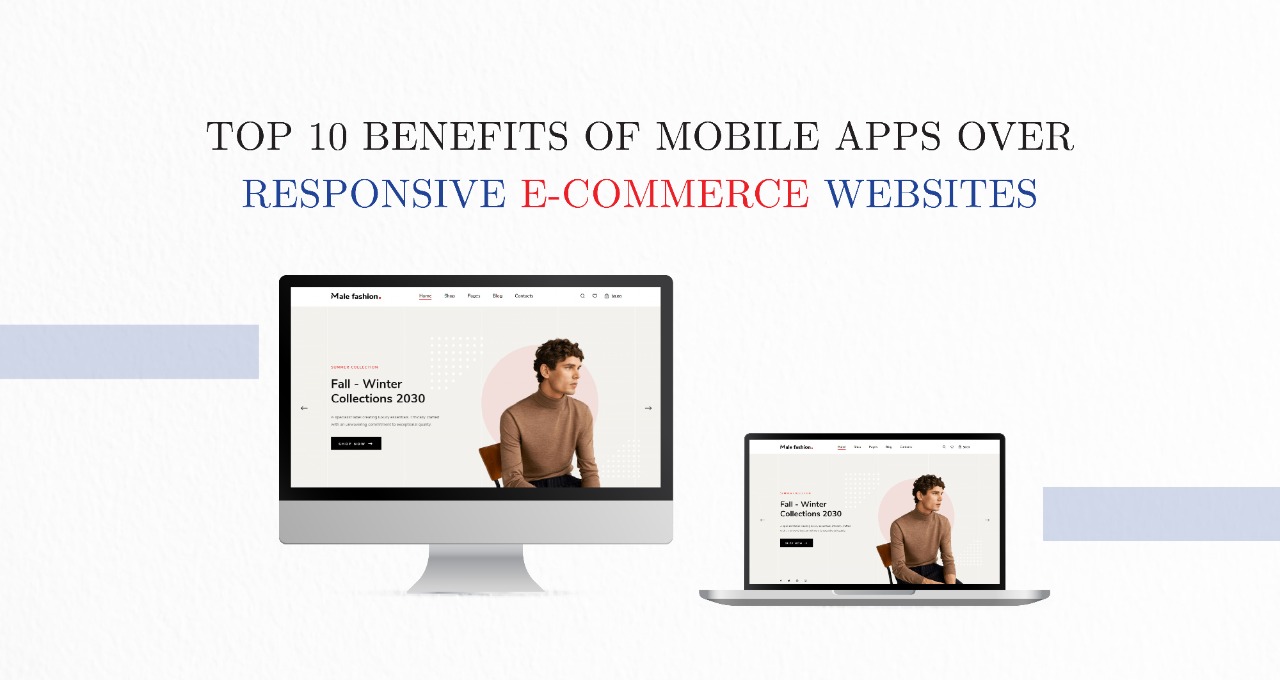 Mobile apps are dominating the market because of enhanced branding, personalization, and user involvement. It has been causing disruptions to everyone's use of digital services ever since it started. Particularly, eCommerce has flourished after adopting an app-centric methodology. The majority of mobile apps traffic comes from devices that make up more than half of all internet usage.
You no longer need to handle numerous websites for your eCommerce firm because of mobile responsive design. Responsive designs enable a single website to display all your material in various ways. Your website seems flexible enough to adapt each design to the size of the user's screen thanks to responsive design in eCommerce. A responsive eCommerce website benefits you with a surge in traffic and revenue as well as a more focused portfolio, the correct target market, and faster website performance.
Our daily lives are now inescapably intertwined with smartphones. Setting an alarm, checking social media sites like Facebook, WhatsApp, Instagram, and Twitter, reading the news, listening to music, viewing YouTube videos, adjusting the lighting and temperature, and updating status of the project are all necessary duties.
These bilaterally exclusive applications run separately on popular operating systems and give our smartphones a real-time experience. The need for mobile app development is growing as thousands of new apps are released each year.
An app may draw in new users via app stores.
A mobile application might leverage the hardware of tablets and smartphones.
Using an app will give your customers a singular experience.
We could argue for weeks about the advantages of a Ecommerce website vs a mobile app, but in the end, your decision must be based on your needs. Let's discuss the potential of mobile apps and highlight some of their most significant perks mentioned below.
What are the advantages of developing mobile apps?
1. A Quick and Simple Way to Contact Customers
How quickly and simply customers can locate information about a company significantly influences their levels of satisfaction. A specialized mobile app could be what you need to give your customers the fastest possible connection.
An app for a mobile device is much more dependable, personalized, and practical than websites and other channels. Since they can log in using their contact information, customers won't lose track of their assistance requests. Looking for reliable support might make the distinction between a prospect and a conversion.
2. Develop A Stronger Brand
As you continue to offer value, your customers' interest in your brand will grow. Without conscious branding initiatives, it is hard to build a rich consumer interaction, nonetheless. In this sense, a variety of Ecommerce mobile applications might be helpful. In recent years, businesses have demonstrated that customized applications are more successful than conventional brand marketing strategies like television or outdoor advertising.
We spend a lot of time on mobile devices, which are becoming an ever-growing part of our life. App developers may utilise this platform to promote their products. Your brand marketing activities will be more successful if you include more branding components (logos, colour schemes, etc.) directly into your app.
3. Boost Client Engagement
One of the best ways to increase brand recognition and resource management is to concentrate on your level of involvement. Customer lifetime value, return on investment (ROI), and other important metrics will increase if you can enhance the frequency with which consumers contact your company. To increase user engagement, software engineers can wish to include a number of features in their Ecomm app.
Similar to that, it is important to correctly consider important factors that have an impact on the complete customer experience. Consumers may lose interest even if your software has outstanding functionality, if the UI/UX design is poorly designed or lacks sufficient accessibility.
4. Obtain Loyal Clients
By offering exceptional value to its customers and making sure they are always happy, nearly every single successful firm has a high client engagement level. On the other hand, loyalty programmes offer a fantastic chance to advance the situation. A loyalty programme is a terrific idea, but many business owners fail to execute it properly and end up with a difficult-to-join programme.
5. Using social media to promote
The driving factor for the internet is connection. The more frequently users engage with your app, the stronger it is for your business. Increasing participation is usually best accomplished through social media. Still, you need to think about marketing your app on these platforms first if you want to integrate it with social media channels effectively. You'll want a potent social media approach for this. Utilizing social media marketing on well-known websites like Facebook and YouTube is a great way to ensure that your app receives all the exposure you need as soon as it becomes available.
6. Obtain Consumer Insights
In the twenty-first century, it is almost impossible to run a successful business without understanding your customers. For an effective marketing strategy, ensure you base it on actual consumer behavior. A reliable and worthwhile source of user data could be your android/iOS application. You can get all the functionality you need to gather customer data from a number of analytics solutions, including Google and UXCam.
7. Enhanced Client Services
A positive customer experience depends on rapid customer communication, as was already mentioned. According to research in the customer service sector, the majority of clients now choose mobile support.
Both the client and the Ecomm business owner gain a lot from mobile customer support. Self-service is an option for customers. It can be a smart idea to include a cutting-edge, approachable help centre in your app to help your users discover answers to their queries as quickly as possible. The majority of the time, the greatest method to provide outstanding customer service is to ensure there are few or no difficulties.
8. Provide Special Features
The following elements are crucial for providing services to your consumers if you're planning to construct an app and haven't already looked into them:
A push notification: The use of push notifications is a tried-and-true method to keep users coming back to your app and services.
Click to call and click for guidance These two clicks are of two distinct types. Another crucial component of digital marketing is the notion of convenience. By carefully placing buttons across your programme, you can accelerate the conversion of leads into purchases.
Analytics: It is impossible to stress the importance of analytics in operating mobile enterprises. Your marketing results are significantly impacted by your insight into customer behavior.
9. Create a marketing channel
The user session and app access point data may be used to improve your marketing campaigns. You might inform customers more effectively with an app than with other traditional marketing channels. Regardless of your marketing objectives or approach, becoming mobile lets you give your customers the finest deals.
10. Gather User Reviews
Let's examine a few of these techniques for getting client feedback in more detail:
Widgets are perhaps the most common way for users to provide feedback within an app, and they're great for eliciting lengthy responses on a particular feature of your company.
Short surveys are another thing you may include to your app. Make absolutely sure the survey is pertinent to the app's content and only present it when it's suitable to boost response rates.
Rank my app Feature: Aids you in asking the client to provide the information listed below: These days, almost all smartphone apps have this function. App ratings help you improve your app's position in the app store in conjunction to informing you how satisfied your customers are with it.
In general, mobile feedback systems are more responsive, accessible around-the-clock, and moderate.
You now understand the special benefits of creating mobile applications. Consider developing a mobile app for your company if you see your competitors are doing so. A mobile app functions in the same way as your offline business and aids in educating your consumers while also allowing them to access to even when you aren't online.
Since many years ago, Versatile Mobitech has dominated the field of mobile apps. While keeping up with the most recent trends and corporate objectives, we have delivered various apps for organisations all around the world. We are the ideal partners if you wish to outperform your competitors.
Our team will contact you shortly after you fill out the contact form with your needs.
Feel free to get in touch with us:
Email: [email protected]
Visit our website: https://www.versatilemobitech.com/
Like us on Facebook: https://www.facebook.com/versatilemobitech
Subscribe
Subscribe to our blog and never miss our latest updates