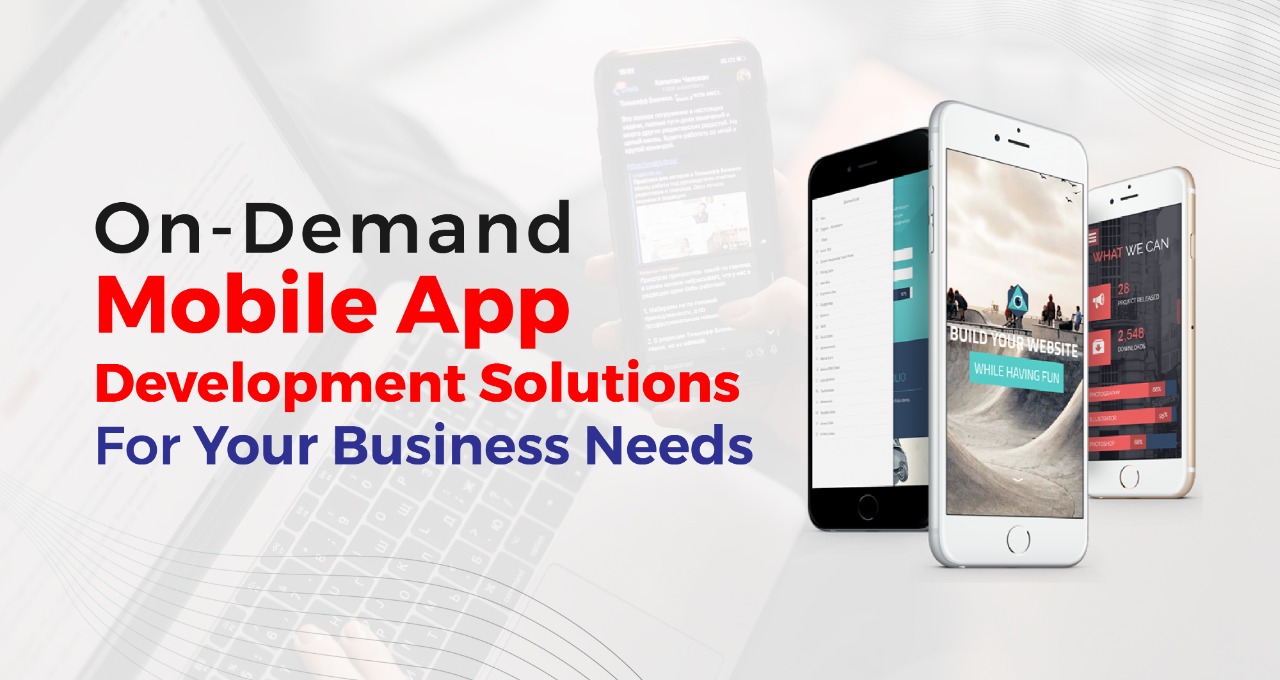 With every day that goes by, the on-demand app industry continues to grow and reach new heights. Consequently, it's time to give your organization a new direction by teaming up with a highly skilled on-demand app development firm that can provide innovative mobile app development solutions, assisting you in connecting with the greatest number of target consumers and putting you in the profitable range.
But now, by effortlessly outsourcing it to a firm like Versatile Mobitech, which develops mobile apps, producing a business app becomes no more a challenging undertaking.
Let's glance at some mobile app stats globally before shedding light on why and how mobile app development might improve things for your company.
A little over 81% of mobile phone users prefer to conduct their product or service searches online. 26% of them look for a corresponding app.
Smartphones account for almost 90% of the time spent using mobile applications.
Business app downloads are projected to increase by 16% over the next five years.
In today's Digital era, your business immensely requires the On-Demand Mobile App. Let's explore why.
Increasing your consumer base
Offering your goods and services through enterprise mobile application development enhances any business's entire consumer reach and time savings, as opposed to relying on client shop visits. As a result, companies should spend money creating Android, iOS, and Web applications to expand their reach. Additionally, using digital marketing effectively enables you to connect with your target market, particularly through social media platforms and websites.
Enhancing brand image
The brand image of any firm is one of the elements that influence its success. Technologically savvy customers nowadays view a firm without technical capabilities, specifically one lacking a business app created by a top-rated mobile app development company, as out of step with the times. Consequently, the firm's future prospects are indirectly affected. A mobile application would make it easier for your company to stay in touch with customers, which would enhance the perception of your brand.
Channel of Income Source
The business may view a mobile app as an extra income stream. You may monetize your app using alternatives like in-app adverts and in-app purchases for premium features. A majority of applications require users to "pay to unlock" extra functionality, while some are released on a pay-to-download basis. For instance, if customers pay for some premium capabilities of a photo-editing program, the app enables them. For additional information about monetization alternatives for mobile app development, contact our subject matter experts.
Greater Than Geographical Boundaries
A business mobile application reduces the physical gap between the client and the brand since it is available globally. In addition, recent technological advancements have opened the door to location tracking. A wide range of prospective mobile app services is now available as a result.
For instance, shopping applications can leverage the location tracking capability to actively notify users of the newest offers now available at businesses nearby. This is but one illustration of working with a reputable mobile app development firm.
How On-Demand services are served by Versatile Mobitech?
With the help of cutting-edge technology and the expertise of our team of seasoned on-demand app developers, Versatile Mobitech offers a wide range of on-demand services. We are dedicated to delivering the finest user experience with top-notch UI and engaging features because we truly believe that everything revolves around customer satisfaction.
We help you reach the widest possible audience with our specialist on-demand solutions. Our services include various developments such as Car Rental, Food Shipping & Delivery, Fitness App: Nutrition & Health, Laundry App, Logistics & Courier, and many more on client's demand.
What features do on-Demand Apps inherit?
Get our steadfast on-demand solutions and assistance using cutting-edge technology to grow your business in this $1 billion sector. By incorporating industry-leading core functionality, our app developers believe in building on-demand apps which can become unique and demanding.
Booking a Service Instantly
Easy On-boarding or Sign-in
Discounts & Promotions
Geolocation Service
Integration of Social Media Ratings and Reviews System Evaluations and Ratings
Multiple Options for Payment
Easy Order Placement & Tracking
Real-time Push Notifications for the System
Simple Navigation to Choose a Service
What Makes Versatile Mobitech the Best for On-Demand App Development Company?
Versatile Mobitech, renowned as the best supplier of on-demand solutions, actively meets current company demands and delivers top-tier solutions at affordable prices worldwide. Here are some reasons why choosing us to create on-demand apps is the best option:
Agile Methodology
For optimizing the practices and processes and producing the best outcomes, we use the Agile approach and hold periodic sprint events.
Customer Contentment
We leverage the most recent frameworks and technologies to develop fresh, user-friendly business solutions that are safe, scalable, and meet your needs.
Integrity and openness
We value your thoughts and vision, routinely deliver you detailed project processes, and take into account your valuable advice as needed.
Affordable Prices
We provide the best mix of affordable prices and outstanding quality to provide the most competitive pricing in our market.
Committed Teams
Our highly skilled team of programmers is committed to producing high-end business solutions using a variety of platforms and technologies.
Models of Flexible Interaction
We provide our clients with the liberty to choose from a variety of engagement and recruiting models rather than forcing them to operate within very restrictive and stringent constraints.
A strong mobile application may assist a firm in establishing a strong brand presence in the marketplace in addition to optimizing business logic. An app may now be created by hiring a Versatile Mobitech mobile app development company. We are the ideal mobile app development firm with an in-depth understanding of all platforms for programming, coding languages, graphics & designs, among other things.
Feel free to get in touch with us:
Email: [email protected]
Visit our website: https://www.versatilemobitech.com/
Like us on Facebook: https://www.facebook.com/versatilemobitech
Subscribe
Subscribe to our blog and never miss our latest updates