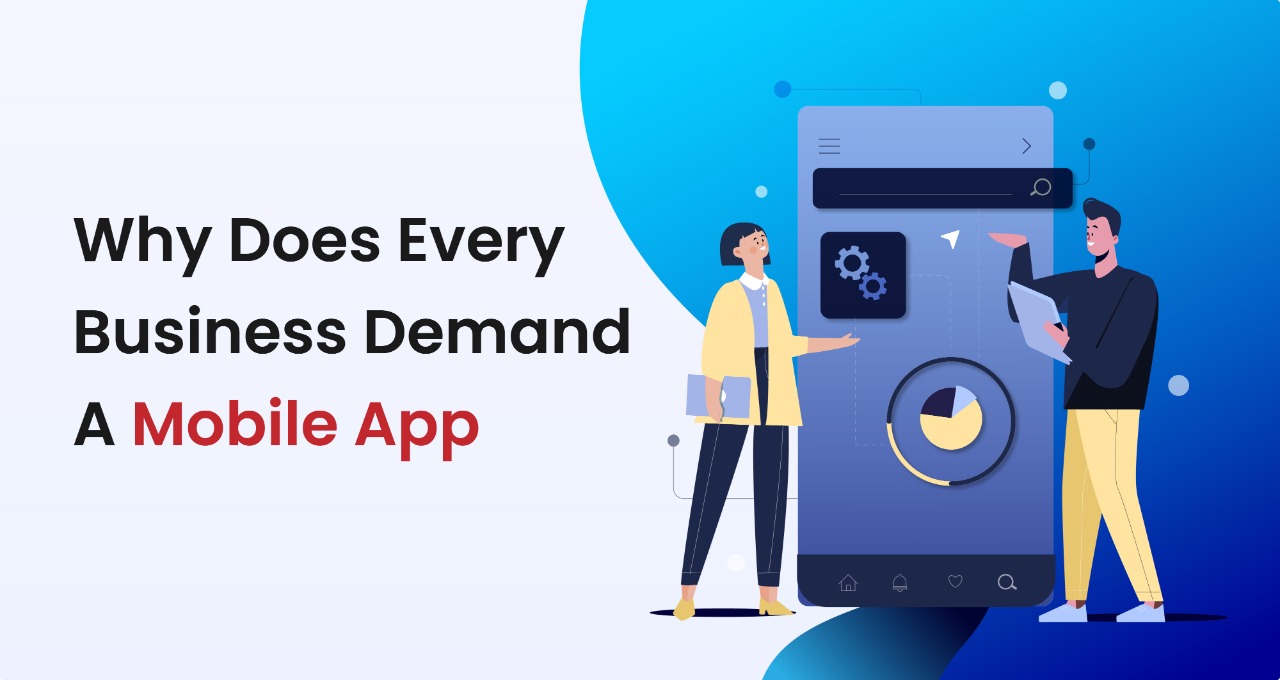 Do you want to know why mobile apps have become such a hot topic in the business world, and how they can help businesses grow faster? This blog will provide you with an answer!
These days, a mobile app is in high demand. Although many business owners believe that developing and owning a mobile app is an unnecessary and costly investment. However, it can help a small business's market reputation, build its customer base, and increase sales. As a result, mobile application development has become an essential marketing tool for all types of businesses.
As a result, mobile apps from small and large businesses make a better impression on each other and, as a result, on their customers. The best mobile app development companies in India can assist you in creating the best app for your company.
Top Reasons Why Mobile App are an Urgent Need for Your Business
Today, mobile applications are synonymous with success, as they are constantly improving in order to provide the most out of them. Every software development company that creates apps for the industry is bringing about remarkable changes that directly benefit both the user and the business.
While there are numerous reasons to have a mobile app for your business, we have compiled a list of the most important.
1. Promote Your Brand and Create Awareness
It makes no difference how impressive your company's product catalogue or services are if no one is aware of them. That's where mobile apps shine as a one-stop platform for providing all of your brand's information as well as showcasing your products and services.
The most recent version of a product or service can be uploaded to the app and promoted through ad campaigns. This will ultimately assist you in increasing sales while lowering promotion costs.
2. Empowers Small Businesses in the Industry
Mobile apps for emerging businesses can be a powerful yet impactful tool for business growth that does not deplete the budget. Most businesses are concerned about the cost of development and believe that digital solutions are only for large corporations. That, however, is not the case.
With the growing popularity and usage of mobile apps, a number of dedicated app development companies have emerged in the industry, ensuring flexible engagement models for businesses. Once developed, the application may prove to be the most effective tool for growth.
3. Better Communication
One of the primary benefits of mobile apps is that they improve customer communication because mobile phones are convenient and can be taken anywhere, making it much easier to communicate with them than going through a website. Mobile apps are less expensive than websites with comparable features.
As a result, even the best mobile websites cannot encourage customers to sign up in the same way that an app can. Because mobile users spend the majority of their time on apps, creating apps for your business allows you to reach a larger audience. To achieve a true sense of responsiveness, you must collaborate with a mobile app developer.
4. Customer Loyalty Growth
By allowing customers to book a table, order food, or pay for their order via their smartphone app, the business gains a powerful tool for increasing loyalty. Integrate loyalty programmes into the mobile app and provide customers with useful promotions, discounts, or bonuses.
You can use the personalization tools to your advantage by sending push notifications about new promotions and discounts. You can provide users who have installed the app with access to special offers and bonuses.
5. Increase Revenue
Mobile apps provide your company with the opportunity to grow and earn more money. Apps can significantly improve the customer experience and, as a result, sales by making the purchasing process more convenient, intuitive, and simple.
Mobile apps can also be easily monetised, allowing businesses to generate additional revenue. In-app advertising, in-app purchases, freemium, and paid apps are some of the most popular app monetisation strategies. Users are often willing to pay for an app if they enjoy it and believe it provides them with value. As a result, you can add a new revenue stream to your business strategy by offering your products or services or advertising in your app.
6. Remain Competitive
With the continued growth of mobile and the ever-changing consumer behaviour, having an app for every business will quickly become a requirement. Developing a mobile app is a sure-fire way to stay competitive and establish a strong presence in your industry.
They allow businesses to stand out from the crowd by providing a visually appealing and interactive environment. If they haven't already, your competitors will almost certainly incorporate mobile apps into their business strategy. As a result, any delay in app development may cause you to fall behind the competition.
Unlock the Potential With Versatile Mobitech
Hopefully, this blog has answered all of your questions and provided you with the top answer to why you need a mobile app for your business.
The most promising and profitable businesses are those that have designed a highly interactive app. If you want to maximize profit and take your business to the next level, you must have a mobile app developed. In the long run, investing in mobile app development will help you earn profits.
So got convinced? Are you also looking to benefit your business with mobile apps?
We are here to provide you with the best design for your mobile application, as well as a good user experience and a great mobile user interface. If you want to expand your customer base and are interested in having a mobile app developed for your company, you should contact an experienced company like Versatile Mobitech, which has helped businesses in a variety of industries with various app solutions.
With Versatile Mobitech's expert team of mobile app developers, you can be confident that your business app will be a unique and creative part of your brand.
Feel free to get in touch with us:
Email: [email protected]
Visit our website: https://www.versatilemobitech.com/
Like us on Facebook: https://www.facebook.com/versatilemobitech
Subscribe
Subscribe to our blog and never miss our latest updates