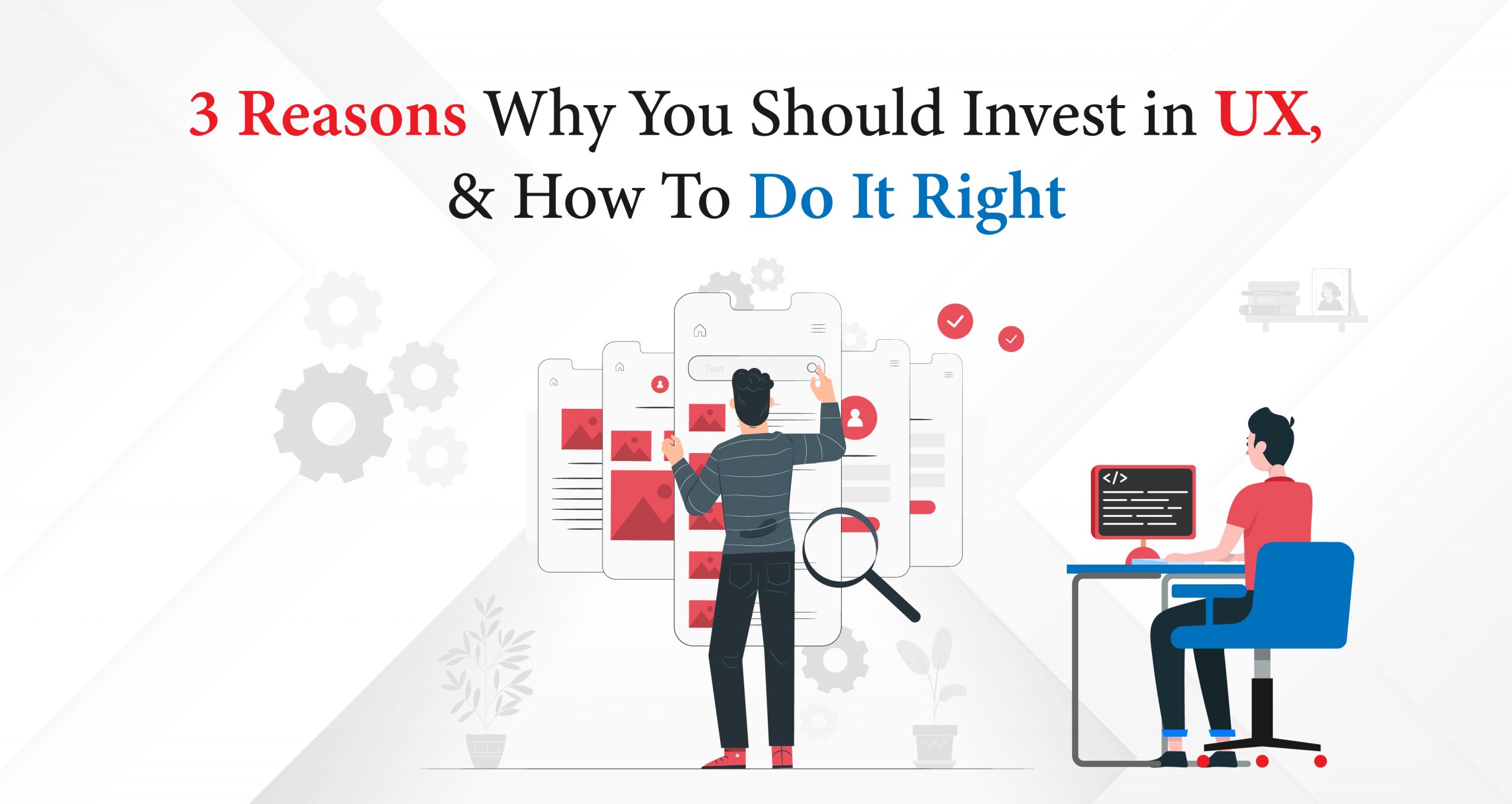 By now, most of us are aware of the standard arguments for leveraging user experience research and design. From more significant market share to lower customer bounce rates, UX has become a go-to option for businesses to boost engagement and drive sales. A proper UX design can drastically change the face of a business. Moreover, it will assist in producing a significant return on investment. So, don't miss the opportunity to invest in UX and reap the benefits it offers for your business's success.
As more of our life's daily interactions move online, it has never been more critical to provide users with a great digital experience. Undoubtedly, UI and UX design offers a streamlined experience to your buyers. From mobile app development to digital marketing, you can rely on Versatile Mobitech for UX designing.
A frictionless digital experience across various channels is the basic foundation of doing business nowadays. Good UX and UI make users happier. In the realm of online reviews, positive reviews can have a direct impact on the overall sales of your product. And when your product or any other manifestation of UX is misaligned with the expectation of your users, you are less likely to get positive reviews.
To be precise, there is still a fair bit of ambiguity around the financial returns of User Experience (UX) design. Companies that fail to invest in UX design will find beaten by their competitors. Hence, to stay relevant, leveraging UX design is a must. Do you know that even website development requires designing UI and UX?
The popularity of UX design has led to the rise of various types of misconceptions. For instance, many business owners think that UX reflects how the interface is designed! But to be precise, UX is much more than just appearance.
UX refers to the holistic approach comprising accessibility and functionality. The primary aim of UI and UX designing from Versatile Mobitech is to boost your brand's engagement rate. Here are some reasons why you should invest in UX.
Satisfied Users are Your Best Salespeople
Do you know that satisfied users can drastically increase the sales of your products? To ensure that your product objectives are in sync with the user goals, you should follow a UX-aligned product roadmap.
For instance, you can develop user research slots in the initial phases of the roadmap. Moreover, ensure that the UX strategy directly influences the development of the product. The more a company invests in UX design, the more sales it will witness. Therefore, even a tiny investment in UX will help you boost your overall sales.
Good UX Design Practices can Boost Your Company's ROI
Design-driven organizations usually don't compromise with customer experience. Nowadays, every business is competing for the attention of customers. With proper UX and UI design practices, you can differentiate your business and make it unique among the customers.
Note that every time the customer selects over everyone else, you will improve your overall bottom line. Impressively, a well-designed user interface will raise your website's conversion rate significantly.
Furthermore, when your company collaborates with a designing UX Company in Hyderabad, you unlock access to a new customer value chain. If you make UX an integral part of your business strategy, you will be able to enjoy exponential revenue growth. A product developed by considering the best UX design practices will drive your sales.
It Saves You Time and Money in the Longer Run
If deployed early in the process associated with product development, UX design can reduce the expenses associated with reworking the project modules. In other words, it is essential to consult Versatile Mobitech, the best UI and UX designing Company in Hyderabad to design your product based on the latest UX practices.
Quite often, developers spend time fixing software errors and resolving bugs that could have been avoided had UX been deployed right at the time of development. By implementing the latest UX design practices, you can save a lot of downtime.
UX design ensures a collaborative approach which ensures that all the key players of a project are participating in the product development procedure. You can consult a UX and UI Company in Hyderabad to ensure that UX design best practices are deployed consistently. From a collaborative approach to loyal customers, UX design can be your ideal growth partner.
How to Invest Rightly in UX?
To ensure that you leverage the benefits of UX properly, here are some crucial elements to consider.
Research Related to Users
If you are leading a UX project with a user-based strategy, you will always find the perfect balance between accessibility and a good user interface. First, however, you have to be aware of the preferences of your customers.
By knowing your customers' preferences, you can create relevant design concepts. You will have access to a wide variety of interface layouts that guides the ultimate process of UX design. Moreover, a Google UX design company in Hyderabad will help you avoid unnecessary costs.
Usability Testing
Before investing in UX, it is pretty crucial to execute usability testing. By testing the features of your digital product with real users, you will get to know about the product's more substantial and weaker areas.
In short, you will know whether or not the digital product will be able to help you achieve your objectives. Note that you can execute usability tests on a software product at any point during its development. By relying on Google UX design, you will get a straightforward analysis of your product.
UX- A Continuous and Evolving Process
Any alteration in the expectations and buying behavior of customers can have a direct impact on the UX of your product. Always remember that user experience is a dynamic concept, and it keeps evolving all the time.
And with the emergence of new technologies like AI and Virtual Reality, user experience design needs to consider them properly. If you want to stay relevant in this competitive marketplace, your product's UX design should be assessed and reviewed constantly.
So as you can see, UX designing plays a crucial role in boosting your overall sales and engagement. So opt for UI & UX developer in Hyderabad to deploy the latest UX designs for your product.
Feel free to get in touch with us:
Email: [email protected]
Visit our website: https://www.versatilemobitech.com/
Like us on Facebook: https://www.facebook.com/versatilemobitech
Subscribe
Subscribe to our blog and never miss our latest updates