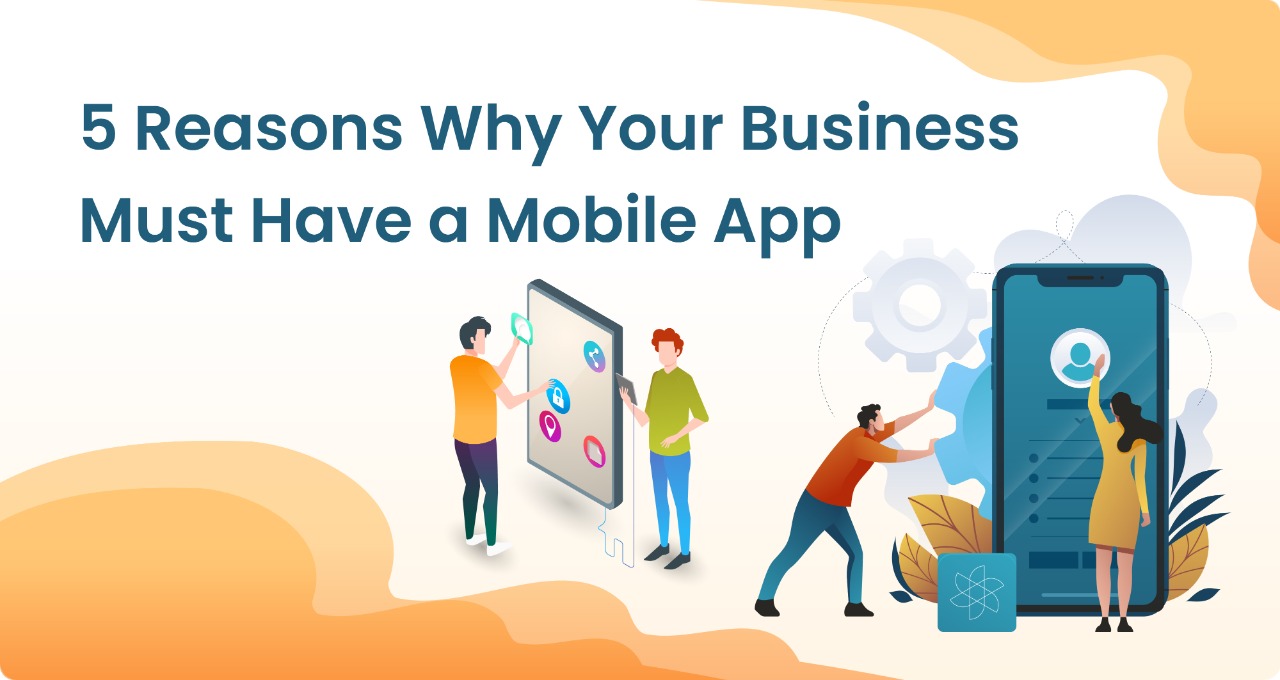 The importance of having a mobile app for businesses cannot be overstated in today's digital landscape. With the exponential growth of smartphone users worldwide, estimated to reach a staggering 7.5 billion by 2026, it is essential for companies to seize this opportunity through effective iOS or Android app development in collaboration with a reputable mobile app development company.
Gone are the days when businesses relied solely on hoardings and pamphlets for brand promotion. Technology has brought companies closer to their customers, quite literally at their fingertips. A well-designed mobile application has the potential to replace various traditional marketing methods while delivering exceptional results.
In the current era of digital transformation, mobile apps play a pivotal role in revolutionizing businesses across industries and sizes. Regardless of your company's scale or sector, integrating mobile app development into your business strategy is crucial.
Now, let's delve deeper into why it is imperative for your business to have a mobile app in 2021, as "Business Must Have a Mobile App in 2021."
Mobile Apps Boost Brand Awareness:
Enhanced brand awareness is one of the significant advantages of having a mobile app for your business. By having your app installed on users' smartphones, you gain the ability to engage with them multiple times throughout the day. With features such as push notifications, your brand remains at the forefront of their minds, resulting in increased customer engagement.
They Increase Customer Engagement:
Engaging customers with your brand is vital for business growth. Mobile applications facilitate ongoing communication with customers through their diverse features. Pop-ups, feedback forms, and real-time updates on the latest offers related to your products or services can all be seamlessly delivered through a mobile app. Unlike emails, mobile app notifications have higher open rates, ensuring a higher chance of customer interaction.
Moreover, mobile apps simplify the purchasing process. Users no longer need to open multiple browser tabs; they can simply open the app and place their orders conveniently.
Apps Deliver Value to Your Customers:
Having a mobile app for your business demonstrates your commitment to providing value to your customers. Mobile apps enable customers to browse and make purchases from the comfort of their homes. Furthermore, should they encounter any issues, they can quickly seek resolution by contacting your customer support via the app. This convenience saves customers' time and energy, offering them a positive experience while engaging with your brand.
Mobile Applications Build Customer Relationships:
Mobile apps are instrumental in fostering strong relationships with your customers, surpassing the capabilities of a website alone. By leveraging essential built-in features like pop-ups and push notifications, you can maintain a consistent presence in users' lives. This continuous brand visibility and timely offers create familiarity, trust, and loyalty among customers, establishing a solid foundation for long-term relationships.
Boost ROI:
When businesses provide value and positive experiences to customers through mobile apps, it often leads to increased purchases. Studies indicate that customers are more likely to make additional purchases after having a positive experience with a brand. Furthermore, mobile apps have been shown to drive higher conversion rates for both large brands and small and medium-sized enterprises (SMEs). Thus, investing in a mobile application can significantly boost your return on investment (ROI).
In conclusion, whether your business is a startup or an established company, having a mobile application is an indispensable step towards taking your business to the next level. At Versatile Mobitech Pvt. Ltd, we offer affordable mobile app development services. Our team of expert developers has successfully delivered customized Android and iOS mobile applications with desired features for numerous businesses. Contact us today to discuss your requirements and witness firsthand how our mobile app solutions can enhance customer satisfaction and drive revenue growth.

Feel free to get in touch with us:
Email: [email protected]
Visit our website: https://www.versatilemobitech.com/
Like us on Facebook: https://www.facebook.com/versatilemobitech
Subscribe
Subscribe to our blog and never miss our latest updates