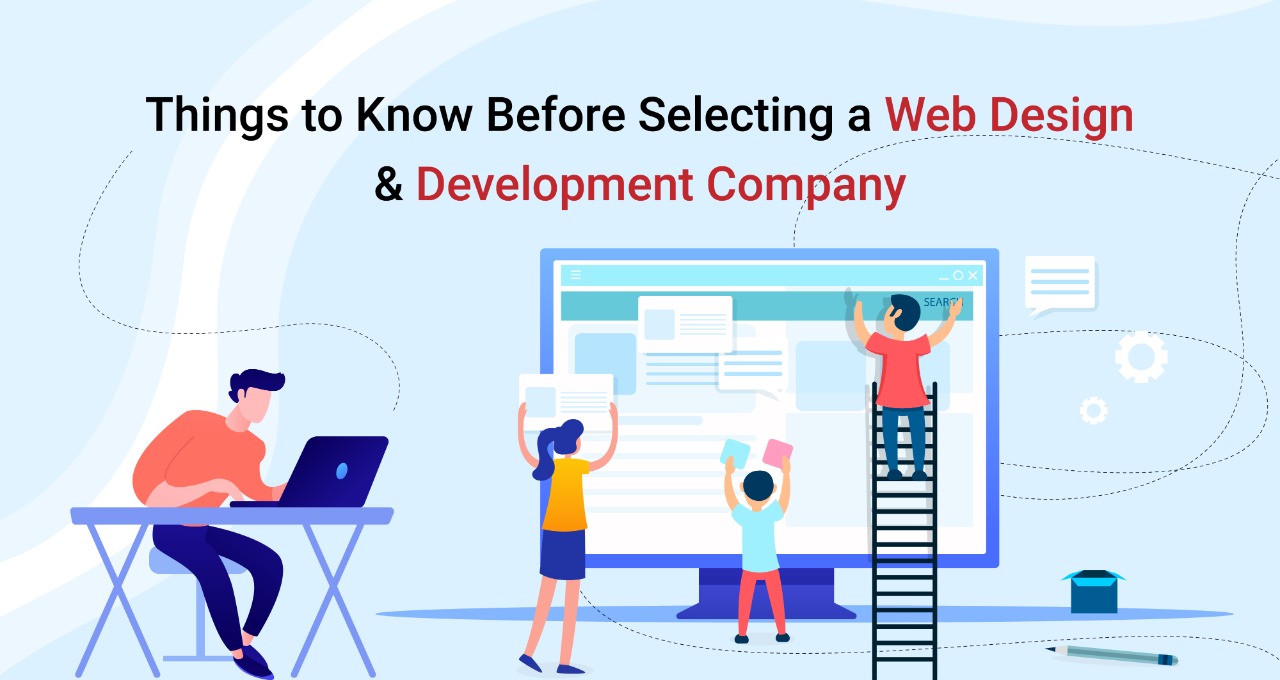 "Your website is the center of your digital ecosystem, like a brick and mortar location, the experience matters once a customer enters, just as much as the perception they have of you before they walk through the door."― Leland Dieno
To maximise on additional chances and attract customers in today's economy, you need something more than a web presence. You can be certain that if you do not have a quality and dynamic website, it will be difficult to recoup your investment.
Unfortunately, many firms have a poor understanding of what a business website should be. Fast loading, tracking enabled, mobile-ready, enabled CMS, strong security, and SEO Savvy are just a few of the website features that can help your company reach millions of people.
To ensure that your website contains all of these components, you should outsource website development to a professional web design and development company.
Before You Choose a Web Design and Development Company:
Creating the proper kind of website requires the use of the right kind of web design and development company. Here are nine things to look for and think about when hiring a web design and development firm:
1. Know Your Needs and Budget
Before you start looking for a suitable web development agency in your area, you should decide how much money you want to spend on your website and what features you want it to have.
It's a good idea to plan out your business website strategy ahead of time so you know exactly what you're searching for and what you can afford.
2. Impressive Work Portfolio
Any competent web development business will have an amazing portfolio of completed projects. A company with an established track record of creating spectacular projects should have a website with a portfolio of its greatest work.
You can also ask to see some of their work that is related to your specialty in order to have a better understanding of the type of work that they perform. If you like what you see, they could be a good fit for you.
3. Check for Specialisation in Your Niche
Every business website is one-of-a-kind, whether in terms of design or technology. When selecting a web development firm, make sure to ask if they specialise in designing websites for your industry.
Hiring and working with an agency that has experience with projects similar to yours might help you get the outcomes you want from your website. Importantly, the agency should have the knowledge to employ the most recent web development techniques when creating your website. This would improve the user experience of your website.
4. Illustration of an Extremely User-Friendly and Customised CMS
While what is visible on the exterior is important, the content management system is also an important part of a website overhaul (CMS). Many marketers believe that regardless of who produces it, a WordPress website is a WordPress website. This is completely false. CMS platforms like WordPress, Drupal, and Expression Engine contain many fundamental features and functionality, but they are all essentially clay that must be moulded and personalised by the developer in accordance with best practises.
A custom website should be developed on an easy-to-use, highly customizable CMS that is tailored to your website's content and functionality. Because each developer creates a CMS website differently, it's critical to choose a partner who can exhibit intuitive and personalised CMS back-ends.
5. Mobile-Friendly Websites
In today's world, the response should always be yes. With the expanding amount of mobile users, it's not so much a matter of being mobile friendly as it is about deciding to apply a responsive design. Responsive varies from mobile friendly in that it responds to the demands of the user. Images have been optimised, navigation has been simplified, and the layout scales to fit the size of the screen. Choose a company that specialises in not only mobile-compatible sites, but also mobile sites.
They will have the most experience in advising you on which option is ideal for your company. With Google's latest upgrade favouring mobile sites, several agencies are now advising a mobile-first strategy, in which the mobile site takes precedence over the desktop version.
6. Work Transparency
There are several fantastic designers out there who offer high-quality, low-cost professional site designs. However, because of the lack of transparency, there may be a few bumps along the way. Miscommunication between clients and web design companies increases the likelihood of misunderstandings and leaves more potential for blunders and mistakes.
In the absence of openness, it is also more difficult to hold firms accountable for any promises or mistakes they make. This causes the client to become paranoid. There are numerous horror stories out there about people putting their hard-earned money down as a deposit just to have the folks responsible vanish! Having an easy-to-reach and communicate with design team fosters honesty and decreases the risk of these kind of mistakes.
7. Credibility Factor
Simply searching for the top web development agency on Google will yield a plethora of results. To successfully compare the credibility of different organisations, you must consider the evaluations and testimonials of prior clients who have dealt with these companies.
However, like with any other source of information, online reviews should be taken with a grain of salt. You can get a more authentic idea by contacting former clients of the firm you are considering and asking them about their experience. This will give you a better notion of whether you should hire the agency or not.
Are You Looking Out for a Top-Notch Web Design and Development Company?
Then Versatile Mobitech is the one that you are looking for. Our team of professionals with amazing technological tools will offer you the best possible services that you need for your business website.
At Versatile Mobitech, we handle both front and back end development to provide a visually appealing front end and a back end that can handle big volumes. Our tried-and-true agile development and DevOps processes have been customised to decrease risk and provide resilient products that satisfy customers and users.
Feel free to contact us if you would like a quote for your web development project.
Feel free to get in touch with us:
Email: [email protected]
Visit our website: https://www.versatilemobitech.com/
Like us on Facebook: https://www.facebook.com/versatilemobitech
Subscribe
Subscribe to our blog and never miss our latest updates