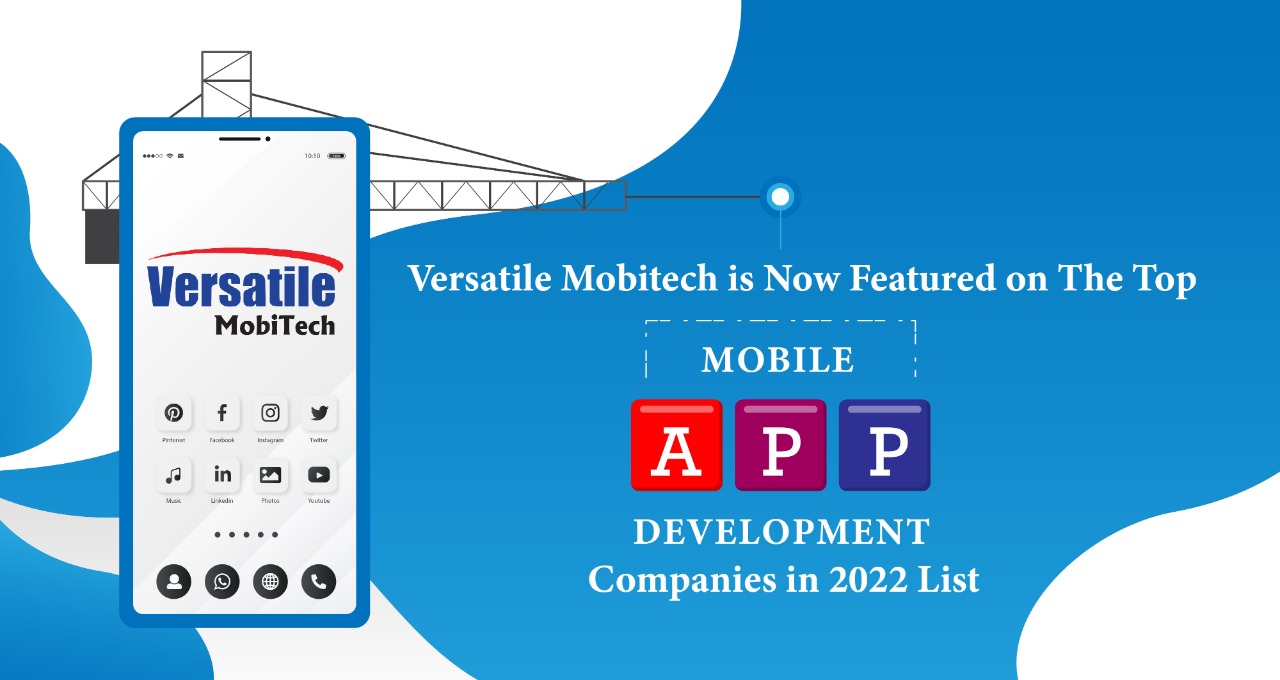 From retail to healthcare, mobile applications have become an essential aspect of every organisation. Digitalization may help you take your business to new heights and open up new avenues for expansion. Furthermore, developing a mobile app offers several advantages, including an extra communication channel, higher client loyalty, increased awareness, and enhanced brand visibility.
Are you underwhelmed by the advantages that a personalized mobile app may provide? Here are some statistics that demonstrate the value of having a mobile-first business:
Mobile phones are used by 89.84 percent of the world's population.
There will be 7,516 billion smartphone users by 2026.
By 2023, mobile app downloads and in-app sales are estimated to generate $935.2 billion in revenue.
Depending on the statistics above, it's clear to assume that developing a mobile app in 2022 will be critical to your company's success. So, whether you're looking to build an app from the ground up or grow your current development team, outsourcing your app development may help you achieve your goals. That's when outsourcing App development comes in useful.
A wide range of app development services are available from tens of thousands of outsourcing organisations. However, deciding which one is best for you might be difficult. We are pleased to announce that Versatile Mobitech has been added to Telangana's Top Mobile Development Companies in 2022 List to assist you in finding the ideal outsourcing partner.
As a result, you won't have to go door to door with your ideas or IT issues. You may go right up to Versatile Mobitech and get an IT consultation for any of your concerns.
How Do We Achieve this Position?
In today's world, it's self-evident that every mobile app development project needs the attention of a qualified mobile app development team. So, here is a list of the top six qualities we possess at Versatile Mobitech Company in order to better serve you in the future.
Market and platform experience
Even though you already have a good notion of who your consumers are and what they want, it's critical that the development business you employ has a lot of expertise with what your customers and target market want. A staff that understands how to engage with users is critical to the success of your mobile app.
You should also examine their expertise working on various platforms while looking for top mobile app development firms. Flexibility won't be an issue if the development staff is well-versed in both iOS and Android. Do you want a mobile app for iOS? One can be built by the group. If you prefer Android, the crew is ready to assist you right away.
Has a clear-cut development process
Being an ideal mobile app development company, we follow a well-defined approach. The team conforms to the strategy created around the project by closely following a predetermined methodology. Every team member understands what they must do, where they must go, and how they must attain their unique objectives. This is to guarantee that the objective is achieved. Teams that don't have a procedure wander aimlessly.
The following is an example of a typical mobile app development process:
Meeting with the developers (discussion of the project's history and concept)
Consult with the customer
Make a PSD mockup of a user interface.
Client approval and input on the mock design
Phase one of coding
App deployment, testing, and quality assurance
Top mobile app development firms understand the value of having a consistent approach, therefore this shouldn't be an issue for you.
Diverse skills and well-defined roles
When it comes to mobile app development, experience isn't enough. We are a company that can provide you with a multi-skilled crew. Isn't it true that you can't build an app if everyone on your team is a developer? You'll also want competent designers and a dependable project manager, among other things. The more diversified the abilities of your mobile app development team, the better for your project. We make certain that they get along well with one another and that they feel at ease working with you.
Even if a team has a wide skill set, teamwork is simple. It's even easier if everyone understands their roles and duties. As a result, you must select a mobile app development business that clearly outlines all team roles. Developers and designers will be able to quickly identify their specialised jobs as a result of this.
The project manager or lead developer should be familiar with each team member's skill set so that assigning UX/UI design, data integration, security, and QA testing, among other tasks, will be simple.
High coding standards
Every mobile app development project necessitates the use of coding. As a result, we are able to meet your criteria of selecting top mobile app development businesses with whom to collaborate. Basic coding abilities are acceptable, but a team that adheres to strict coding guidelines is desirable. More significantly, a staff that is comfortable with and competent in a variety of programming languages will benefit your mobile app development projects greatly. You'll have a wealth of expertise, talents, and flexibility at your disposal.
Clear and open communication channels
Between you, the customer, and the development agency, communication should always be free and transparent. This is something that the best mobile app development firms in the world understand, and you should as well.
Versatile Mobitech has a flexible development staff with open and easy-to-reach contact channels. You may send us an email at any time, and you can also phone the team if the need arises. Chat, video conferencing, and even SMS are all good options for communication.
Constant communication keeps you informed about the progress of your app, web, or software projects.
Passion for and dedication to the project
Find a business that is passionate about what they do if you want the greatest mobile app development company. In this instance, you might seek feedback from former clients or developers who have already collaborated with us. This will give you an insight into how the team tackles our projects and interacts with our clients.
It's not simple to pick the correct app development company, especially when there are hundreds of small and major mobile app development businesses with various specialties all over the world. Depending on the requirements, specifications, and pricing, the parameter may differ from one user to the next. Taking into account all of the criteria, we at Versatile Mobitech have obtained the highest-ranking and are ready to assist you to the best of our ability.
Subscribe
Subscribe to our blog and never miss our latest updates